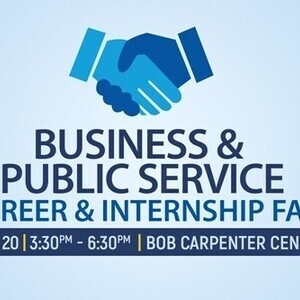 2017 Business & Public Service Internship & Career Fair
Join us to experience a fair with a targeted industry focus!

Join us to meet with employers searching for students and alumni with experience and interest in the following areas: Accounting, Finance, Public Service, Government, Consulting, Operations, Politics, Public Safety & Corrections - to name a few!

We look forward to seeing you there!
Monday, February 20, 2017 at 3:30pm to 6:30pm
Bob Carpenter Center, Arena
Bob Carpenter Center, University of Delaware, Newark, DE 19716, USA
Event Type

Alumni, Students, Career Services, Academics, Alfred Lerner College of Business and Economics, College of Agriculture and Natural Resources, College of Arts and Sciences, College of Earth, Ocean, and Environment, College of Education and Human Development, College of Engineering, College of Health Sciences, Grad Students & Postdocs

Calendar

Departments

Website
Contact Email

Contact Name

Jenni Kaper

Contact Phone

302-831-8569

Subscribe