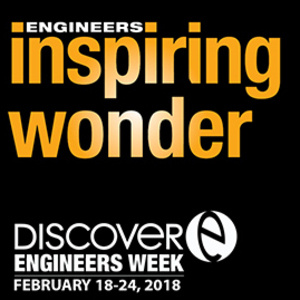 2018 National Engineers Week Order of the Engineer Ring Ceremony
This is a formal ceremony to induct students into the fellowship of engineers. Open to all engineering majors expected to graduate this year (Seniors & Grad Students). Students, faculty and staff are encouraged to attend. The Order of the Engineer (http://www.order-of-the-engineer.org/) was formed as a fellowship of engineers trained in science and technology and dedicated to the teaching, administration, and/or practice of their profession. Members of the Order are identified by the wearing of a stainless steel ring on the little finger of the working hand. This ring symbolizes the wearer's commitment to practice integrity, fair dealing, tolerance, and devotion to the standards and the dignity of the engineering profession.
We look forward to honoring you as a new member of the Order of the Engineer. To be inducted into the Order and to receive your ring, you must be present at the ceremony. Participants should wear business attire. Family and friends are welcome to attend. A reception with light refreshments will immediately follow the ceremony.
Photography and videography from this event may be used for promotional purposes. Notify the event photographer at the time the photograph is being taken if you prefer not to be photographed.
Tuesday, February 20, 2018 at 6:30pm to 8:00pm
Mitchell Hall
Mitchell Hall, University of Delaware, Newark, DE 19716, USA
Event Type

Calendar
Group

Contact Email

Contact Name

Terrie Kalesse

Contact Phone

302-831-8659

Subscribe