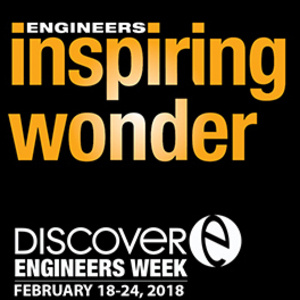 2018 National Engineers Week Student Banquet & Silent Auction
Sign Up Today for the 2018 EWeek Student Banquet
EWeek 2018 concludes with an exciting Student Banquet and Silent Auction! This event provides an opportunity for the College of Engineering community to celebrate National Engineers Week 2018. A buffet dinner will be provided and prizes awarded! Join your friends and faculty in celebrating the conclusion of the 67th National Engineers Week at this free buffet dinner. Enjoy the slide show of EWeek events and the guest speaker. Did we mention free food and prizes?
IMPORTANT: The dinner is free but registration is required.
Photography and videography from this event may be used for promotional purposes. Notify the event photographer at the time the photograph is being taken if you prefer not to be photographed.
Saturday, February 24, 2018 at 6:00pm to 8:30pm
Perkins Student Center, Rodney Room
Perkins Student Center, University of Delaware, Newark, DE 19717, USA
Event Type

Calendar
Group

Hashtag

Contact Email

Contact Name

Michele L. Brown

Contact Phone

302-831-8659

Subscribe