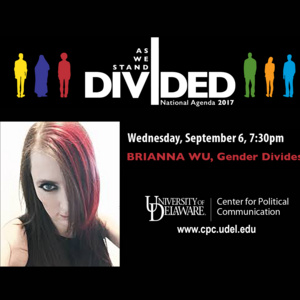 National Agenda Series - As We Stand, Divided
This event is free and open to the community. Eventbrite tickets are optional but recommended. Visit www.bit.ly/NationalAgenda_Sept6 for details.
The University of Delaware's seventh annual National Agenda Speaker Series explores the divides that exist in the United States, including gender, geographic, religious, partisan, and cultural. Brianna Wu is head of Development at GSX, a Boston independent video game studio. Wu came to national prominence when she and other women working in the tech industry were personally targeted by alt-right groups, including one spearheaded by Steve Bannon, now chief strategist to Donald Trump. Her story has been told and fictionalized in several media, including in an episode of Law & Order: SVU and on The Sci-Fi Channel. Wu is also a 2018 Democratic candidate for U.S. Congress in Massachusetts, District 8.
The fall speaker series will be at Mitchell Hall on the University of Delaware's Newark campus on these Wednesday evenings: September 6, September 20, October 4, October 18, November 1, and November 15. National Agenda is hosted by the University of Delaware Center for Political Communication. It is made possible with support from the University of Delaware Office of the Provost.
Wednesday, September 6, 2017 at 7:30pm to 9:00pm
Mitchell Hall, Auditorium
Mitchell Hall, University of Delaware, Newark, DE 19716, USA