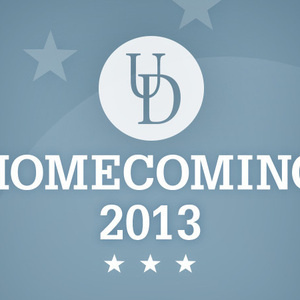 Banner Competition
Open to all student clubs, residence hall groups, RSO's, Greeks, and Student-Athletes, the Banner Competition involves creating a spirited banner that will have the crowd excited about Homecoming! Students can pick up a blank, free banner at the Office of Alumni Relations starting on Tuesday, August 27 through Thursday, October 3. All banners are DUE to the Office of Alumni Relations by 4pm on Thursday, October 3 and will be hung in Trabant throughout Homecoming week.
Judging will take place during Homecoming week and the announcement of the winners will occur at the Pep Rally on Friday, October 11 at 4:30 p.m. on the Laird Campus Turf. Three prizes will be awarded.
Banner design criteria includes originality & creativity, personal/group representation, overall representation of UD, use of UD colors (blue and yellow), all banners must be horizontal, and proper display of YoUDee & Albany's Grate Dane.
Thursday, October 3, 2013 at 8:00am to 4:30pm
Office of Alumni Relations 5 West Main Street
Calendar

Tags

Website
Cost

$0

Hashtag

Contact Email

Contact Name

Christine Scheirer

Contact Phone

3028311294

Subscribe