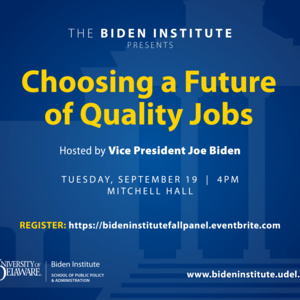 Biden Institute Presents: Choosing a Future of Quality Jobs
Tickets are free, but REQUIRED for entry. Please register through Eventbrite and be prepared to show your ticket upon entry.
DOORS OPEN: 3:00 p.m.
Choosing a Future of Quality Jobs
Automation and other transformations in our economy are spurring fears regarding widespread job loss and further hollowing-out of the middle class. But, we can also seize the opportunities presented by these changes in order to build a stronger economy and a more successful workforce.
On Tuesday, September 19th, Vice President Biden will host and guide a panel of distinguished business and government leaders in a discussion regarding how we can choose a future of quality jobs that will allow the American middle class to thrive.
Distinguished Guests Include:
Byron Auguste, President and Co-founder, Opportunity@Work, former National Economic Council Advisor
The Honorable Elaine L. Chao, U.S. Secretary of Transportation, former U.S. Secretary of Labor
Mary Kay Henry, President, Service Employees International Union (SEIU)
The Honorable Penny Pritzker, Chairman of PSP Capital Partners, LLC and former U.S. Secretary of Commerce
Jim Murren, Chairman and CEO, MGM Resorts International
Tuesday, September 19, 2017 at 4:00pm to 5:30pm
Mitchell Hall
Mitchell Hall, University of Delaware, Newark, DE 19716, USA