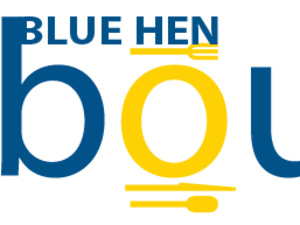 Blue Hen Bounty Pickup
Blue Hen Bounty is a student-led food pantry open to all University of Delaware students to provide supplemental nutrition to students who are in need of this support while at college.
While University of Delaware students can often count on free food at many campus events, recent studies confirm that the daily food insecurity of college students is a common and growing problem nationwide.
The most recent survey of nearly 3,800 students, spanning eight community colleges and 26 four-year institutions, found that almost 50 percent lacked reliable access to affordable and nutritious food.
Students, faculty and staff working within UD's Episcopal Campus Ministry aim to address that need at Blue Hen Bounty, a new campus-area food pantry that is fully stocked with canned meats, fruit and vegetables; various grains and single-serve meals; cereal, snacks and condiments; assorted beverages; and even basic toiletries such as shampoo and toothbrushes.
Last growing season, Blue Hen Bounty volunteers also partnered with UD's Webb Farm to stock the pantry with fresh vegetables.
"Our goal is to make all students in need feel welcome, and feel comfortable to take advantage of Blue Hen Bounty," said Cecily Sawyer Harmon, ECM deacon. "All of us need a little assistance at one point or another in our lives, and it is much easier to reach one's potential academically when you aren't worrying about where your next nutritious meal will come from."
Though the pantry is located within St. Thomas' Parish at 276 South College Avenue, at the intersection with Park Place, the amenity is available to all University of Delaware students with their UD ID.
Wednesday, May 3, 2017 at 12:30pm to 5:00pm
More dates through May 24, 2017
276 South College Avenue, St Thomas' Parish
Calendar

Website
Hashtag

Contact Email

Contact Name

Max Holdsworth

Contact Phone

302-377-5709

Subscribe