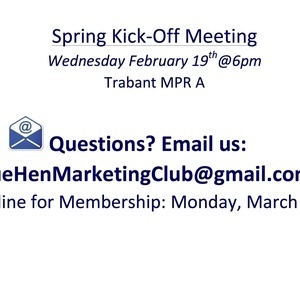 Blue Hen Marketing Club: Spring Kickoff Meeting
Join the Blue Hen Marketing Club on Wednesday, February 19th at 6pm in Trabant MPR A for our Spring Kickoff Event!
Learn more about the club, how to join, and the different events and opportunities for this semester. We will have a guest speaker for AB&C advertising agency.
Wednesday, February 19, 2014 at 6:00pm to 7:00pm
Trabant University Center, MPR A
Trabant University Center, University of Delaware, Newark, DE 19711, USA