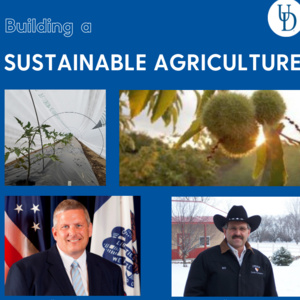 Building a Sustainable Agriculture
In the inaugural session of the UD College of Agriculture and Natural Resources Speaker Series, join Bill Northey, U.S. Department of Agriculture Undersecretary for Farm Production and Conservation, and Bill Couser, Iowa farm producer and owner of Couser Cattle Company, for a discussion on farming, trade, biofuel and perspectives from Midwestern agriculture.
About the speakers
Before serving in a federal role, Bill Northey was the Secretary of Agriculture for the state of Iowa. He is a former president of the National Corn Growers Association and a fourth-generation corn and soybean farmer.
Bill Couser is an Iowa farmer who tills more than 5,000 acres, raises beef cattle, was an early advocate of the ethanol industry, and is a leader in adopting conversation practices that mitigate nutrient loading to Iowa's streams and waterways.
Ed Kee, UD's Executive in Residence and former Delaware Department of Agriculture Secretary, will moderate.
Sponsors
Sustainability at the University of Delaware
Delaware Environmental Institute
Delaware Energy Institute
Tuesday, November 13, 2018 at 4:00pm to 5:00pm
STAR Health Sciences Complex, Atrium
540 S. College Avenue, Newark, DE 19713