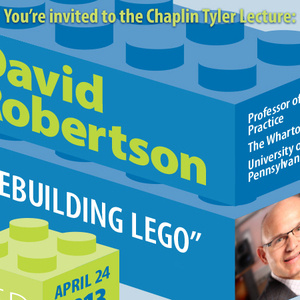 Chaplin Tyler Lecture
Join us for the Annual Chaplin Tyler Lecture, hosted by Lerner College. This year's speaker is David Robertson, Professor of Practice at the Wharton School, University of Pennsylvania.
Professor Robertston lecture "Rebuilding Lego" is based on his book " Brick by Brick: How LEGO Reinvented its Innovation System and Conquered the Toy Industry" due out this Spring.
Wednesday, April 24, 2013 at 3:00pm to 4:30pm
Purnell Hall, Room 115
Purnell Hall, University of Delaware, Newark, DE 19716, USA