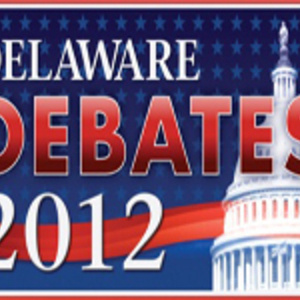 Delaware Debates 2012
This fall voters will have the opportunity once again to hear the views of candidates on the ballot in the First State during Delaware Debates 2012, a joint initiative by the University of Delaware's Center for Political Communication and Delaware First Media, with sponsorship from AARP and the American Cancer Society Cancer Action Network.
Delaware Debates 2012 will be held on Oct. 16 and 17. Each evening will feature two back-to-back debates with the first beginning at 7 p.m. On Tuesday, Oct. 16, the U.S. House of Representatives debate will be followed by the debate for U.S. Senate, and Wednesday, Oct. 17, the evening will begin with the lieutenant gubernatorial debate and will be followed by the gubernatorial debate.
All debates will be held in Mitchell Hall on UD's Newark campus with an audience of students, invited guests and members of the public. A limited number of tickets will be available for the general public at locations throughout the state in September. Details about tickets and seating will be available in September.
A live audio and video feed of Delaware Debates 2012 will be available to regional and national media, and the program will be broadcast live on WDDE 91.1 FM and streamed live on the web and archived online by the University and at WDDE.org.
Each debate will include a formal, moderated question-and-answer segment, as well as questions from UD students. The moderator of the debates will be Delaware First Media's Nancy Karibjanian, a veteran journalist who has covered Delaware politics for more than 25 years and who co-moderated the nationally televised Delaware Debates 2010 with CNN's Wolf Blitzer.
Delaware Debates 2012 are part of an academic course and a speaker series at UD called National Agenda, which is part of the University's new political communication minor for undergraduates and organized by the Center for Political Communication. This year's National Agenda theme is "Road to the Presidency."
Wednesday, October 17, 2012 at 7:00pm
Mitchell Hall
Mitchell Hall, University of Delaware, Newark, DE 19716, USA