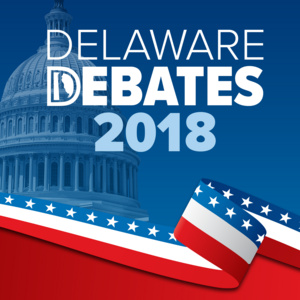 Delaware Debates 2018
Ticket distribution begins on Tuesday, September 18
Delaware's major-party candidates for the United States House of Representatives and Senate races will meet at the University of Delaware's Mitchell Hall Auditorium on Wednesday evening, October 17, for Delaware Debates 2018, a joint initiative of the University of Delaware's Center for Political Communication (CPC) and Delaware Public Media. The event marks the fifth biennial Delaware Debates, an initiative that began in 2010. Learn more at delawaredebates.org.
Ralph Begleiter, founding director of the CPC and former CNN journalist, returns to the University of Delaware to moderate. He will pose questions about key issues in Delaware such as economic and job-growth policies, immigration, health care, gun violence, improving public education, legalization of marijuana, and climate change. University of Delaware and Delaware State University students will also present questions to the candidates by video.
Each debate requires a ticket for admission, which is free and available on a first-come, first-served basis to the public, students, and the University community. Tickets are limited to 2 per person, per debate. Please visit Delaware Debates Tickets for details.
5:30 p.m. Doors open
6:30 p.m.―U.S. House of Representatives
7:30 p.m.―30-minute intermission
8:00 p.m.―U.S. Senate
Wednesday, October 17, 2018 at 6:30pm to 9:00pm
Mitchell Hall, Auditorium
Mitchell Hall, University of Delaware, Newark, DE 19716, USA