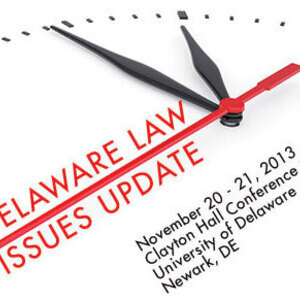 Delaware Law Issues Update
The event, a 1-1/2 day conference sponsored by the Society of Corporate Secretaries & Governance Professionals and The John L. Weinberg Center for Corporate Governance at the University of Delaware, in partnership with the State of Delaware, will feature five members of the Delaware judiciary from the Delaware Supreme Court and the Delaware Court of Chancery, as well as leading corporate and plaintiff attorneys, and corporate secretaries and investors. It is focused on practical implications of trends in Delaware law.
Six panels will explore:
(1) Director Fiduciary Duties in Compensation Decisions;
(2) What to Do When an Activist Investor Comes Calling;
(3) When Bad Things Happen to Good Companies;
(4) Federal and State Judicial Developments and Private Litigation;
(5) M&A Trends and Developments;
(6) Practical Tips on How to Keep the Board Out of Trouble
Each panel will cover Delaware case law but more importantly give best practice advice on how to avoid such suits or bad outcomes. The panels will focus on proactive steps that should be taken by those who regularly advise boards of directors - such as the proper taking of minutes, proper vetting of conflicts, proper provision of materials and the best processes to be followed in various factual scenarios.
Keynote addresses will be delivered by Chief Justice Myron T. Steele and Justice Jack B. Jacobs from the Delaware Supreme Court, Vice Chancellor J. Travis Laster from the Delaware Court of Chancery, and
Charles M. Elson, Edgar S. Woolard, Jr., Chair in Corporate Governance and Director of the Weinberg Center.
The conference will be co-chaired by partners at leading Delaware and Wall Street law firms and will also feature Chancellor Leo E. Strine, Jr. and Vice Chancellor Sam Glasscock as part of the program.
Wednesday, November 20, 2013 at 8:30am to 12:45pm
Clayton Hall
John M. Clayton Hall, University of Delaware, Newark, DE 19711, USA