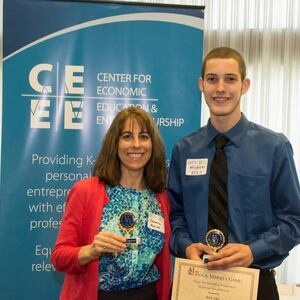 Delaware Spring Stock Market Game
The Stock Market Game (SMG) is a program designed to introduce students in grades 4-12 to the global economy and the world of finance and investing.
Working in groups, students make decisions about how to invest $100,000 and then follow the markets at real-time prices.
Joining our generous sponsor, the Investor Protection Unit of the Delaware Department of Justice is the Securities Industry and Financial Markets Association (SIFMA) with an offer that cannot be turned down - register your teams for the Spring SMG free of charge!
Spring game begins February 27th and continues through May 5, 2017. Teams may register at any time during this period.
For more information , visit: http://stockmarketgame.org/ or contact CEEE program coordinator Marion Jacobs at jacobsm@udel.edu
To register for the spring game, visit https://www.eventbrite.com/e/stock-market-game-teacher-training-workshop-spring-2017-tickets-27761633794
Friday, May 5, 2017
Classrooms throughout Delaware
Event Type

Calendar

Departments

Website
Contact Email

Contact Name

Marion Jacobs

Contact Phone

302-831-2559

Subscribe