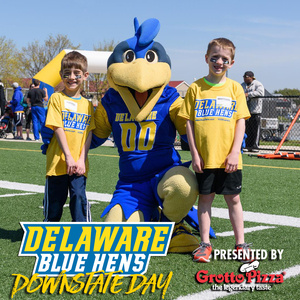 Downstate Day
Delaware Athletics will head downstate to Caesar Rodney High School for a fun-filled day of free entertainment, including an interactive Fan Zone and youth skills sessions with UD student-athletes.

FAN ZONE
2:00-4:00 p.m.
Fans of all ages can enjoy free inflatable interactives, face painting, bounce houses, music, giveaways, prizes, the UDairy Moo Mobile, and photo opportunities with everyone's favorite mascot, YoUDee. No registration is required.
YOUTH SKILLS SESSIONS
2:30 p.m.
Boys and girls 5 to 12 years of age are invited to register in advance to participate in one of the following free skills fun sessions: football, soccer, basketball, field hockey or cheerleading. Space is limited on a first-come, first-served basis.
REGISTER - open until Wednesday, April 11 at 4:30 p.m.
TEAM AUTOGRAPHS
3:30 p.m.
Saturday, April 14, 2018 at 2:00pm to 4:00pm
Caesar Rodney High School (Camden, DE) 239 Old North Rd, Camden, DE 19934
Event Type

Calendar

Departments

Website
Contact Email

Subscribe