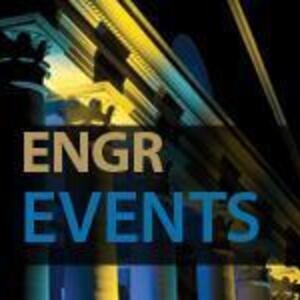 Engineers Week 2014: Countdown to Kick-Off Webcast
The University of Delaware will host an Engineers Week 2014 Countdown event, Friday, Nov. 15, from 1:30-2 p.m. in Mitchell Hall.
UD is teaming with the National Engineers Week Foundation on this kickoff event, which will be webcast live.
Following a welcome by UD President Patrick Harker, those who attend will have an opportunity to hear leading engineering experts from UD's College of Engineering, DuPont and the Institute of Electrical and Electronics Engineers-USA (IEEE-USA) discuss the important role engineers play in addressing today's grand challenges and how volunteerism and partnership contribute to this effort.
The panel discussion will moderated by UD Provost Domenico Grasso. Panelists include:
Babatunde Ogunnaike, dean, UD College of Engineering;

Karen Fletcher, DuPont chief engineer and vice president, engineering, facilities and real estate;

Gary Blank, IEEE-USA president-elect;

Elizabeth (Lizzy) Mahoney, UD doctoral student, chemical and biomolecular engineering; and

Kelsey McWilliams, UD undergraduate student, environmental engineering.

To attend in person, register here.
To tune in online, RSVP and a link to the webcast will be provided closer to the event.
Friday, November 15, 2013 at 1:30pm to 2:00pm
Mitchell Hall
Mitchell Hall, University of Delaware, Newark, DE 19716, USA
Event Type

Calendar

Departments