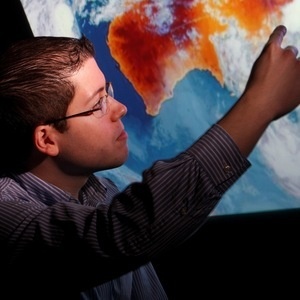 Extreme Weather and Climate Change: Should we blame ourselves?
Nick Klingaman is a postdoctoral research scientist with the National Centre for Atmospheric Science and the Walker Institute at the University of Reading, England.

Together with his father William Klingaman (UD '72), he has written the book "The Year Without Summer," which examines the consequences on agriculture, economies, politics, and society when Mount Tambora in Indonesia erupted in 1815, creating freezing temperatures the following year. In the summer of 1816, months of ice and snow in New England, western Europe and England ruined harvests and spread disease.

A book signing of "The Year without Summer: 1816 and the Volcano That Darkened the World and Changed History" and a reception will follow in Gore Rotunda.

Klingaman, an Honors Program alum graduated summa cum laude in 2005 with a B.S. in Environmental Science and an M.S. in Physical Geography. In 2008 Klingaman received his doctorate from the University of Reading on a Marshall Scholarship.

Sponsored by the Honors Program and the Department of Geography.
Thursday, March 14, 2013 at 7:00pm
Gore Hall, Room 104
Gore Hall, University of Delaware, Newark, DE 19716, USA