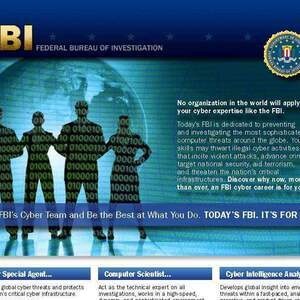 FBI Information Session
THE FBI'S CYBER AGENT
With private and public sector reliance on computer technology, cyber security is becoming more and more critical. At the FBI, our priority is to protect the United States against cyber-based attacks and high-technology crimes. As such, the FBI is seeking applicants for the Special Agent Cyber Career Path to support a diverse and complex caseload.
As a Cyber Special Agent, you may be asked to use your skills to:
Conduct multi-faceted investigations of high-tech crimes, including cyber-based terrorism, computer intrusions, online exploitation, and major cyber frauds
Identify and investigate individuals or groups involved in Foreign Intelligence incidents,
Terrorist Groups/Threats and Criminal Organizations
Locate evidence concealed deep within a computer or computer network infrastructure
Cultivate sources and/or work with other federal agencies and law enforcement groups to arrest those responsible for the criminal acts
Counteract operations that target National Security and U.S. Intellectual property so as to prevent and respond to potentially disabling attacks on the nation's physical and electronic infrastructure, i.e. banks, water and food supply, etc.
Lead on-going efforts to dismantle national and transnational organized crime engaged in online fraud and everyday cyber crime
RSVP to this event by logging into your Blue Hen Careers account, where you can search open positions, submit your resume online, and find out who else is coming to campus! Just log into your Blue Hen Careers account by visiting: www.udel.edu/CSC.
Blue Hen Careers - internships, volunteer, on-campus, full/part-time jobs and a wealth of other resources to help launch your career!
Monday, January 7, 2013 at 6:00pm to 6:30pm
Career Services Center, Workshop Room
Career Services Center, University of Delaware, 401 Academy Street, Newark, DE 19716, USA
Event Type

Calendar

Website
Hashtag

Contact Email

Contact Name

Career Services Center

Contact Phone

302-831-2392

Subscribe