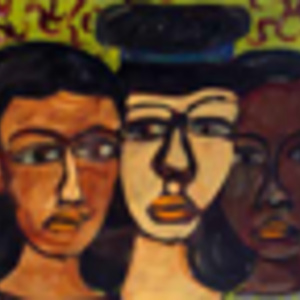 FreshPAINT: African American Art at UD
With a focus on painting, this exhibition showcases works from the Paul R. Jones Collection of African American Art alongside recent acquisitions. Using the wordsFresh and Paint playfully and reflexively, the selection calls attention to methods and materials as well as content and style. The most recent bequests on view are two streetscapes by renowned Delaware artist, Edward L. Loper Sr. (1916-2011).
Many of works on view date to the mid- to late-twentieth century, reflecting the collecting history, habits and aesthetics of the Atlanta collector Paul R. Jones (1928-2010). Since its donation to UD in 2001 the Paul R. Jones gift of African American art has served as a point of departure for a growing collection of art by artists from America and the African diaspora.
While celebrating the creative energies of many artists, FreshPAINT foregrounds important questions relative to gender and race in the history of painting and collecting in America. Shifting the perspective toward African American painting in the permanent collection brings new attention to representational weaknesses, most particularly a gender imbalance illustrated by a lack of work by black women artists, who are far better represented through other media in UD's permanent collection.
FreshPAINT was co-curated by Robert Straight, Professor of painting in the Department of Art and Julie L. McGee, Curator of African American Art.
Saturday, June 28, 2014 at 12:00pm to 5:00pm