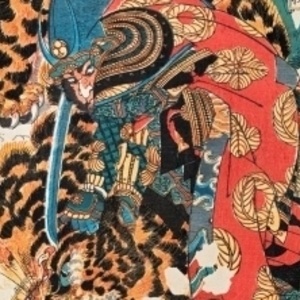 EXHIBITION - From Samurai to Soldier: Japanese Prints of War 1830 - 1897
The mention of Japanese woodblock prints usually suggests images of serene landscapes, famous Japanese landmarks and beautiful women. However, a less well-known but equally popular form of the Japanese woodblock prints were musha-e (warrior prints) and senso-e (scenes of contemporary war). This exhibition presents musha-e and senso-e from the Edo (1603-1868) and Meiji (1868-1912) periods, illustrating the shift in subject matter from imagined scenes of sixteenth century samurai to soldiers of the late nineteenth century Sino-Japanese War.
The nineteen prints on view were generously lent by Hong Gyu Shin, who graduated from the University of Delaware in 2013. In addition to his interests as a collector, Hong Gyu opened the Shin Gallery in January 2013, dedicated to contemporary Korean art (www.shin-gallery.com).
This exhibition is curated by Anna Juliar and Hong Gyu Shin. Anna Juliar, Ph.D. student, Art History, was the Research Assistant for the University Museums from 2012- 2013. She is currently the Margaret R. Mainwaring Curatorial Fellow in the Prints, Drawings and Photographs Department of the Philadelphia Museum of Art.
Sunday, December 8, 2013 at 12:00pm to 5:00pm
Old College Hall, Gallery
Old College Hall, University of Delaware, Newark, DE 19711, USA