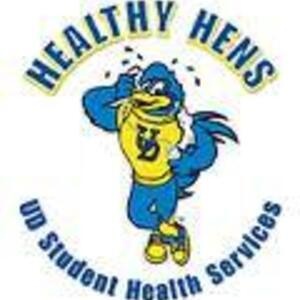 Healthy Hens
Learn some back to school health tips brought to you by Healthy Hens.
HEALTHY HENS provides preventative student health screenings, wellness promotion services and a variety of campus-wide-activities and educational outreach efforts that encourage Healthy Exercise Nutrition and Sleep.
Identify, educate and assist all students in need of health and wellness services to promote lifestyle change with regard to improving student exercise, nutrition, and sleep
Assist you in meeting your personal goals through the support of health-care professionals and peer interactions
Foster lifelong healthy behaviors that will aid you in improving self-esteem and body image and chronic disease prevention.
Sept. 13 - Learn about fruits and vegetables
Sept. 20 - Information table
Sept. 27 - Learn health tips concerning the flu
Oct. 4 - Health literacy tips
Oct. 11 - Breast cancer awareness
Oct 18 - Bone & joint health info
Oct 25 - Infection prevention
Nov 1 - Healthy skin tips
Nov 8 - Diabetes info
Nov 15 - Get Moving UD program finale
Nov 29 - Smoking quit packs/info
Dec 6 - Sleep tips
Dec 13 - Stress reduction tips
Thursday, December 13, 2012 at 11:00am to 3:00pm
Trabant University Center
Trabant University Center, University of Delaware, Newark, DE 19711, USA