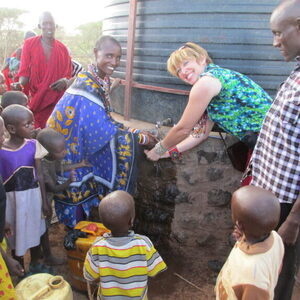 Water is Life Kenya Talk
Joseph Larasha, Maasai Tribe elder, and Dorcas Mutero, Elementary School Teacher, Visit the USA to Share Their Stories of Living in the Drought Stricken Areas of East Africa
NEWARK, DEL. — Water Is Life Kenya, a non-profit organization based in Delaware and working in Kenya, announced that two special visitors from Kenya, Joseph Larasha and Dorcas Mutero, arrived on April 22, 2018. The Kenyans are in the United States for the first time to give a TEDx talk on May 20th, participate in the annual Water Walk benefit on April 28th, and speaking to University of Delaware ROTC Cadets on 16 May at 6:00pm, 114 Gore Hall, all are welcome. They will also meet with donors to the program and discuss the important role played by Water Is Life Kenya in transforming various communities of East Africa over the past ten years.
Joseph Larasha is the co-founder and the Kenyan field manager for water projects and livestock management groups for Water is Life Kenya. Larasha lives in the Amboseli region of southern Kenya. This region is known for its large elephant herds and views of immense Mount Kilimanjaro, across the border in Tanzania. He knows the villagers and the region's politics intimately.
Dorcas Mutero lives in Imisigyio, Kenya, the first community to benefit from a Water Is Life Kenya deep water well project. Before the organization helped the villagers by digging a deep borehole well, they relied on water from across the border in Tanzania. Dorcas and all women and girls would walk 14 miles every day, experiencing conflict at a water point where they had no rights.
With more discretionary time available to her since she no longer has to spend hours collecting water, Dorcas is now a primary school teacher, and secretary of Water Is Life Kenya's first women's Livestock Keepers Group.
Events which Dorcas and Joseph will attend are posted on the waterislifekenya.com website. High Resolution photos of Joseph and Dorcas are available by emailing Info@waterislifekenya.com.
Wednesday, May 16, 2018 at 6:00pm to 7:00pm
Gore Hall, Room 114
Gore Hall, University of Delaware, Newark, DE 19716, USA
Event Type

Calendar

Departments

Website
Cost

Free

Contact Email

Contact Name

Colleen Leithren

Subscribe