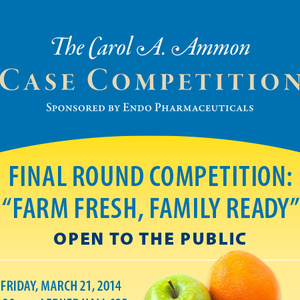 Lerner College 2014 Carol A. Ammon Case Competition
Join us for the final round of the annual Carol A. Ammon Case Competition. This year, MBA/Graduate students from the Lerner College of Business & Economics will study the question of how to connect low-income households with fresh and healthy food options direct from farmers. Several stakeholders are involved in such an endeavor: the consumer, the supplier (farmers), the government (providing the benefits), and the infrastructure providing the electronic processing of the transaction.
In preparation for the competition, members of each of the 19 teams will spend a morning working at the Delaware Food Bank's Newark and Milford locations.
The final round is open to the public and reception immediately following where winners will be announced. As part of the event, participants and attendees are encouraged to bring non-perishable food items that will be donated to the Delaware Food Bank.
The Carol A. Ammon Case Competition, named after its founder, began in 2000. The case competition, open to all Lerner College graduate students, provides an opportunity for students to implement and exhibit the analytical and presentation skills they learn in class. Team presentations undergo two rounds of judging. In the first round, alumni and friends of the MBA program act as judges. The teams that excel from the primary round move on to the final round, which is judged by executives from that year's case company.
Friday, March 21, 2014 at 1:30pm to 5:00pm
Alfred Lerner Hall, Room 125
Alfred Lerner Hall, University of Delaware, Newark, DE 19716, USA