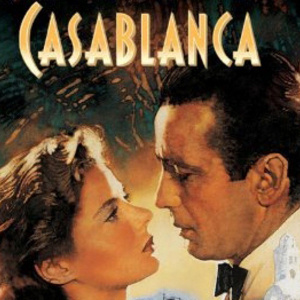 Library Exhibition "Casablanca"
The University of Delaware Library announces an exhibition in place through December 14, 2012 commemorating the 70th anniversary of the motion picture "Casablanca" which has been mounted in a display case outside the Film and Video Collection Department on the Lower Level of the Morris Library.
On November 26, 1942, "Casablanca" premiered in New York City just weeks after Operation Torch, the U.S. led Allied invasion of North Africa and the capture of Casablanca, Morocco from Vichy French forces.
"Casablanca" is one of America's most beloved films whose themes of love, courage and sacrifice in wartime continue to resonate with audiences. The film starred Humphrey Bogart, Ingrid Bergman, Paul Henreid and Claude Rains and received Academy Awards for Best Picture, Best Director (Michael Curtiz) and Best Screenplay. The exhibition consists of publicity stills, the film script, a senitype photo reproduced from a single 35 millimeter frame of restored film footage, facsimile letters from Warner Brothers studio executives concerning the making of the film, and a copy of a "Letter of Transit" film prop. The exhibition also includes lobby cards, "Casablanca" memorabilia from the 70th Anniversary DVD release and Moroccan artifacts.
The "Casablanca" exhibition was curated by Francis Poole, head, Film and Video Collection Department, and Valerie Jones, library assistant III, of the Film and Video Collection Department, with the assistance of Laurie Rizzo, assistant librarian of the Special Collections Department.
An online version of the exhibition can be accessed at [www.lib.udel.edu/ud/spec/exhibits/casablanca/index.html].
For Library hours call 302-831-BOOK or check the Library web at [www.udel.edu/library]
Friday, December 14, 2012
Morris Library, Display case outside the Film and Video Collection Department, Lower Level
Morris Library, University of Delaware, Newark, DE 19716, USA
Event Type

Calendar

Website
Hashtag

Contact Email

Contact Name

Julia T. Hamm

Contact Phone

302-831-2231

Subscribe