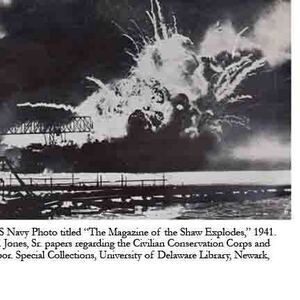 Library Exhibition "Remembering the Attack on Pearl Harbor"
The University of Delaware Library announces the opening of a new single-case exhibition "Remembering the Attack on Pearl Harbor," which will be on display from Monday, December 3, 2012, through Thursday, December 20, 2012, in the Information Room on the First Floor of the Morris Library.
The exhibition will memorialize the December 7, 1941 surprise attack on the United States naval base at Pearl Harbor, Hawaii, by the Imperial Japanese Navy. The attack resulted in the deaths of 2,402 American and 64 Japanese servicemen and marked the entry of the United States into the Second World War.
On display will be several items from the Thomas F. Jones, Sr. papers regarding the Civilian Conservation Corps and Pearl Harbor, which was a gift to the University of Delaware Library from Mr. and Mrs. Thomas F. Jones, Jr., of Newark, Delaware. The manuscript collection is available for research in Special Collections on the Second Floor of the Morris Library. Selected items shown in the exhibition document Thomas F. Jones's service as a Private First Class stationed in Hawaii, where he was serving as a plane spotter in the hills overlooking Pearl Harbor on the morning of December 7, 1941. The exhibition features a training manual given to enlisted men stationed in Hawaii, photographs of American military equipment and personnel, and other items collected by Thomas F. Jones during his time in Hawaii. Of particular note in Jones's papers is a handwritten "Chronology of Events of 7 December 1941" written on December 10, 1941, which is an important personal account of events during the attack on Pearl Harbor.
"Remembering the Attack on Pearl Harbor" was curated and designed by Evan Echols, senior assistant librarian in the Manuscripts and Archives Department with installation of the physical and virtual exhibition by Laurie Rizzo, assistant librarian in the Special Collections Department. The items on display will be available after exhibited via the service desk in the Special Collections reading room located on the Second Floor of the Morris Library.
The exhibition will be available online at [www.lib.udel.edu/ud/spec/exhibits.html]. More information about the Thomas F. Jones, Sr. papers regarding the Civilian Conservation Corps and Pearl Harbor is available online at [www.lib.udel.edu/ud/spec/findaids/html/mss0651.html]
For Library hours call 302-831-BOOK or check the Library web at [www.udel.edu/library]
Thursday, December 20, 2012
Morris Library, Information Room on the First Floor
Morris Library, University of Delaware, Newark, DE 19716, USA
Event Type

Calendar

Website
Hashtag

Contact Email

Contact Name

Julia T. Hamm

Contact Phone

302-831-2231

Subscribe