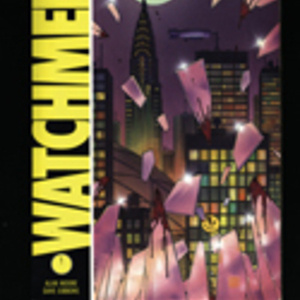 Library Exhibition "The World of the Graphic Novel"
The University of Delaware Library announces a new exhibition "The World of the Graphic Novel" which will be on display in the first floor exhibition cases in the Information Room of the Morris Library from Tuesday, January 15, 2013, through Tuesday, April 30, 2013.
With the current popularity of movies, such as "Avengers" and "The Dark Knight Rises," the medium that spawned these stories, the graphic novel, returns to the spotlight. Superhero stories may be the spark that reignites interest in this format, but overall, stories that focus on masked hero's in capes only scratch the surface of the graphic novel form.
The exhibition will look at the graphic novel from four different perspectives. The first, Masks and Capes, looks at the modern superhero genre. Including titles such as "Watchmen" by Allen Moore and "The Dark Knight Returns" by Frank Miller, the exhibition will sample what makes the superhero genre unique from other works of fiction. Beyond the Mask will look at other works of fiction such as "Fables" and "DMZ" to show the variety that continues to grow and flourish in the graphic novel form, including but certainly not limited to genres such as fantasy, science fiction, horror and more. Truth in Pictures looks at works that are more or less grounded in reality; from an entertaining overview of philosophy in "Action Philosophers" to a semi-biographical retelling of a Jewish family's survival of the holocaust in "Maus: A Survivors Tale." Finally the exhibition will focus on The World View in order to showcase notable works from other countries such as "Akira" from Japan and "The Adventures of TinTin" from France and learn to appreciate the distinctive differences in both the narrative writing and art style that is employed, as well as the perspective from which written.
The graphic novel allows for a refreshingly unique way to explore stories through an intimate collaboration between author and artist. Unlike an illustrated novel, the graphic novel cannot exist without either one of its parts. Today's graphic novels handle all types of subject matter and provide for a wide range of tastes and maturity levels.
The curator of the exhibition is Deavon Church, computing support specialist, Library Information Technology User Support Department, with exhibition preparation by Anita Wellner, library assistant in the Manuscripts and Archives Department and design and installation of both the physical and virtual exhibition by Laurie Rizzo, assistant librarian, of the Special Collections Department.
An online version of the exhibition will be available at [www.lib.udel.edu/ud/spec/exhibits.html].
For Library hours call 302-831-BOOK or check the Library web at [www.udel.edu/library]
Tuesday, April 30, 2013
Morris Library, Information Room, First Floor
Morris Library, University of Delaware, Newark, DE 19716, USA
Event Type

Calendar

Website
Hashtag

Contact Email

Contact Name

Julia T. Hamm

Contact Phone

302-831-2231

Subscribe