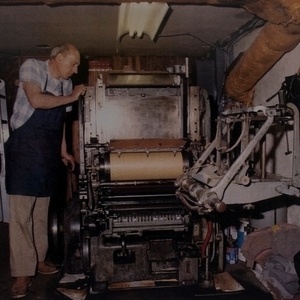 Library Exhibits "Henry Morris, Printer"
The University of Delaware Library announces "Henry Morris, Printer: The Life and Times of the Bird & Bull Press," an exhibition of rare books, manuscripts and printing artifacts, will be on view in the Special Collections Exhibition Gallery on the second floor of the Morris Library through Friday, December 13, 2013, during regular hours of the Special Collections Department, Monday through Friday, 9 a.m. to 5 p.m., and Tuesday evenings until 8 p.m.

The exhibition draws upon the extensive collection of books printed by Henry Morris and the vast collection of manuscript materials found in the Bird & Bull Press Archives at the University of Delaware Library. The Bird & Bull Press Archives contain a wealth of materials documenting Henry Morris' printing career. The Archives include the manuscripts, typescripts, production files, printers' dummies and page proofs used in the production of many of his books, including several books which Henry Morris has self-selected as his personal favorite productions. Also included in the Bird & Bull Press Archives are numerous printing artifacts, including metal engravings, wood cuts, paper samples and a paper mold. Additional items from Special Collections provide examples of some of the rare books which Henry Morris reprinted under his Bird & Bull Press imprint.
An online version of the exhibition will be available at [www.udel.edu/library/ud/spec/exhibits.html].
Friday, December 13, 2013 at 8:00am
Morris Library, Special Collections Exhibition Gallery
Morris Library, University of Delaware, Newark, DE 19716, USA
Event Type

Calendar

Departments

Website
Contact Email

Contact Name

Julia T. Hamm

Contact Phone

302-831-2231

Subscribe