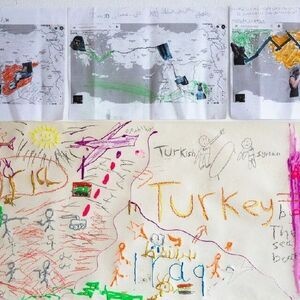 Migration 'Border-Crossers' Simulation Game
Come participate in a border-crosser migration simulation game. The premise of the game is that there are 6 groups of 5-6 students who are seeking asylum in the 'United Federation.'
They have three main ways of getting into the country:
a) obtaining real or 'fake permits' and pass through undetected (highly unlikely)
b) obtaining enough money to bribe a corrupt official or
c) seeking asylum once reaching the border.
In order to reach the 'border' which will be the outdoor covered walkway between Smith Hall and Gore Hall, student groups will have to obtain permits, money, and supplies which will be stationed at various points on campus. If they make it to the point of seeking asylum or being smuggled, they will have a live interview with an actual attorney specializing in asylum. We are looking for volunteers to serve as border guards, humanitarian aid workers, and corrupt state employees that will take bribes. There will also be stations all over the green with fake money. Interested students can email Prof. Neepa Acharya at macharya@udel.edu.
------
Tuesday, November 14, 2017 at 12:00pm to 1:45pm
Gore Hall, Room 208 and the North Green
Gore Hall, University of Delaware, Newark, DE 19716, USA