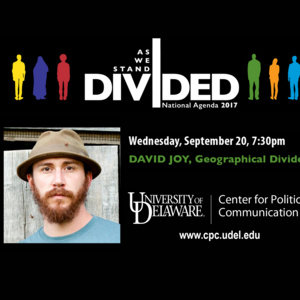 National Agenda Series - As We Stand, Divided
This event is free and open to the community. Eventbrite tickets are optional but recommended. Visit www.bit.ly/NationalAgenda_Sept20 for details.
The University of Delaware's seventh annual National Agenda Speaker Series explores the divides that exist in the United States, including gender, geographic, religious, partisan, and cultural. David Joy is a Southern novelist and the author of the Edgar-nominated novel, Where All Light Tends To Go as well as the novels The Weight Of This World and the upcoming The Line That Held Us. He is also the author of the memoir Growing Gills: A Fly Fisherman's Journey, which was a finalist for the Reed Environmental Writing Award and the Ragan Old North State Award. Joy is the recipient of an artist fellowship from the North Carolina Arts Council. His writing has appeared in numerous magazines and journals, and has been nominated for awards such as the Pushcart Prize. Signed copies of Joy's novels will be available for purchase.
The fall speaker series will be at Mitchell Hall on the University of Delaware's Newark campus on these Wednesday evenings: September 6, September 20, October 4, October 18, November 1, and November 15. National Agenda is hosted by the University of Delaware Center for Political Communication. It is made possible with support from the University of Delaware Office of the Provost.
Wednesday, September 20, 2017 at 7:30pm to 9:00pm
Mitchell Hall, Auditorium
Mitchell Hall, University of Delaware, Newark, DE 19716, USA