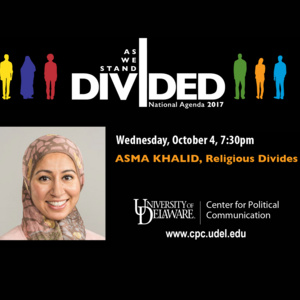 National Agenda Series - As We Stand, Divided
This event is free and open to the community. Eventbrite tickets are optional but recommended. Visit www.bit.ly/NationalAgenda_Oct4 for details.
The University of Delaware's seventh annual National Agenda Speaker Series explores the divides that exist in the United States, including gender, geographic, religious, partisan, and cultural.
Asma Khalid covered the Presidential Election of 2016 for NPR and WBUR in Boston. She joined NPR's political team to focus on the intersection of demographics and politics. She was also a founding member of the NPR Politics podcast. After the election, Asma drew attention with her essay, "What It Was Like to Cover the Election as a Muslim," where she described public reaction as she traveled the country talking to voters at town halls, rallies, churches, and diners.
The fall speaker series will be at Mitchell Hall on the University of Delaware's Newark campus on these Wednesday evenings: September 6, September 20, October 4, October 18, November 1, and November 15. National Agenda is hosted by the University of Delaware Center for Political Communication. It is made possible with support from the University of Delaware Office of the Provost.
Wednesday, October 4, 2017 at 7:30pm to 9:00pm
Mitchell Hall, Auditorium
Mitchell Hall, University of Delaware, Newark, DE 19716, USA