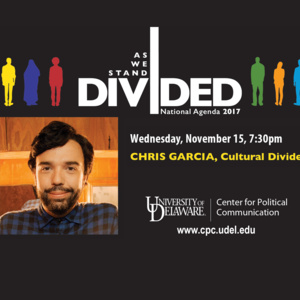 National Agenda Series - As We Stand, Divided
This event is free and open to the community. Eventbrite tickets are optional but recommended. Visit www.bit.ly/NationalAgenda_Nov15 for details.
The University of Delaware's seventh annual National Agenda Speaker Series explores the divides that exist in the United States, including gender, geographic, religious, partisan, and cultural.
A first-generation Cuban-American, Chris Garcia is a comedian and writer based in Los Angeles, CA. Chris cut his comedy teeth in the San Francisco Bay Area, where he was named "A Comic To Watch" by the San Jose Mercury News, "One of the 7 Funniest People in San Francisco" by 7×7 Magazine, and "a Rising Comedic Star" by the SF Weekly. Now based in his hometown of Los Angeles, Chris has been seen on Adam Devine's House Party on Comedy Central, Last Call with Carson Daly on NBC, and heard on memorable episodes of NPR's This American Life and the WTF with Marc Maron podcast. His breakthrough debut album Laughing and Crying at the Same Time is available on iTunes.
The fall speaker series will be at Mitchell Hall on the University of Delaware's Newark campus on these Wednesday evenings: September 6, September 20, October 4, October 18, November 1, and November 15. National Agenda is hosted by the University of Delaware Center for Political Communication. It is made possible with support from the University of Delaware Office of the Provost.
Wednesday, November 15, 2017 at 7:30pm to 9:00pm
Mitchell Hall, Auditorium
Mitchell Hall, University of Delaware, Newark, DE 19716, USA