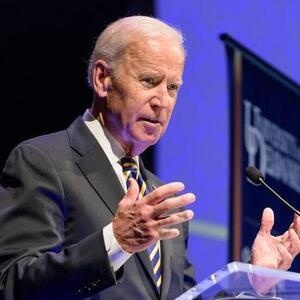 Quality Jobs for American Workers
On Thursday, March 22nd, Vice President Biden and leaders from the higher education, business, advocacy, and policy sectors will convene and discuss solutions to ensure workers succeed in an era of automation and globalization.
Hosted by the Biden Institute, programming will begin at 10 am. Distinguished panelists include:
Joe Biden, 47th Vice President of the United States and founding Chair of the Biden Institute at the University of Delaware
Tom Donohue, President and CEO, United States Chamber of Commerce
Dr. Charlene M. Dukes, President of Prince George's Community College;
The Honorable Justin Fairfax, Lieutenant Governor, Commonwealth of Virginia; and
Heather Bousher, Executive Director and Chief Economist at the Washington Center for Equitable Growth.
The event is by invitation only; however, a livestream will be available. Livestream link: https://udcapture.udel.edu/udlive or https://www.facebook.com/UDBidenInstitute/.
Thursday, March 22, 2018 at 10:00am to 11:30am
Newseum, Knight Conference Center 555 Pennsylvania Ave NW, Washington, DC 20001
Event Type

Calendar

Departments

Website
Cost

By Invitation Only - Livestream Available for All

Hashtag

Contact Name

Biden Institute

Contact Phone

302- 831-4474

Subscribe