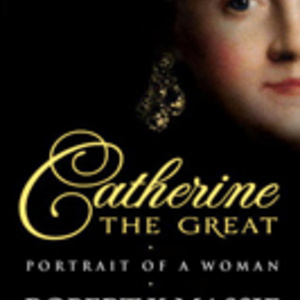 Robert K. Massie to Speak at UDLA Annual Dinner
The 2013 Annual Dinner of the University of Delaware Library Associates will be held on Wednesday, April 17, 2013, at Arsht Hall at the University of Delaware in Wilmington. Robert K. Massie, the award-winning author of "Catherine the Great: Portrait of a Woman," will be the guest speaker on the topic "Catherine the Great: A Woman as Well as an Empress."
Mr. Massie's interest in the Imperial family accompanied the birth of his oldest son who was born with hemophilia, a hereditary disease that also afflicted Tsar Nicholas's son, Alexei. His first book "Nicholas and Alexandra" (1969), which remained on "The New York Times" Bestseller List for 46 weeks, was translated into 17 languages and made into a film nominated for nine Academy Awards. Over 6,000,000 copies of this book have been sold around the world. Mr. Massie's next book, "Journey," written with his first wife, was an account of their family's experience with hemophilia. "Journey" was followed by "Peter the Great: His Life and World," which won the 1981 Pulitzer Prize for Biography. "Peter the Great" became a major network mini-series, winning three Emmy Awards and starring Maximilian Schell, Laurence Olivier and Vanessa Redgrave. Mr. Massie then went on to write "Dreadnought: Britain, Germany and the Coming of the Great War, The Romanovs: The Final Chapter" and "Castles of Steel: Britain, Germany and the Winning of the Great War at Sea."
His newest biography, "Catherine the Great: Portrait of a Woman," was published by Random House in November 2011. "Catherine the Great" has won two prestigious awards: the American Library Association Andrew Carnegie Medal for Excellence in Non-Fiction and the PEN American Center Jacqueline Bograd Weld Award for Biography. The extraordinary story of an obscure young German princess who traveled to Russia at 14 and who rose to become one of the most remarkable, powerful and captivating women in history.
Kathryn Harrison in the Sunday Book Review of "The New York Times" wrote, "One of the unexpected pleasures of "Catherine the Great" is the degree to which Massie invites us to identify with his subject as she grows and changes in a role she began cultivating herself to attain at the age of 14."
Robert Massie has agreed to sign copies of his books during the hospitality hour and after the dinner program. The University of Delaware Bookstore will have copies of her books available for purchase.
The evening of Wednesday, April 17, 2013, will begin with a hospitality hour starting at 6 p.m., followed by the dinner and program at 7 p.m. Dinner prices are $120 per person for members of the University of Delaware Library Associates and $160 per person for non-members/guests which includes a first-year membership in the Library Associates. A table of eight persons can be reserved for $1,400. Members of the University of Delaware Library Associates will be sent a printed invitation in late February 2013. To request a printed invitation, interested persons may contact the Office of the Vice Provost for Libraries by sending an email message to UDLA@udel.edu or by calling 302-831-2231 and providing name and mailing address. An e-version of the invitation is available at [www2.lib.udel.edu/new/2013 annual dinner invite 5.pdf]. The event is open to the public with a paid dinner reservation.
For Library hours call 302-831-BOOK or check the Library web at [www.udel.edu/library]
Wednesday, April 17, 2013 at 6:00pm
Arsht Hall
2700 Pennsylvania Avenue, Wilmington, DE
Event Type

Calendar

Departments

Website
Cost

$120 members/$160 non-members/guests

Contact Email

Contact Name

Julia T. Hamm

Contact Phone

302-831-2231

Subscribe