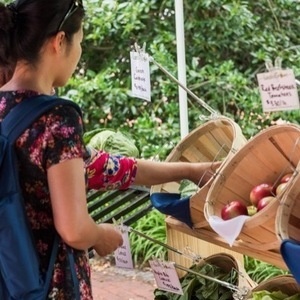 University Farmers Market
Celebrating its seventh season, the University of Delaware's summer Farmers Market is back at Mentors' Circle from 11 a.m.-2 p.m. Thursdays beginning June 8.
The Farmers Market, to be held every Thursday through Sept. 21, offers a wide variety of locally grown produce, baked goods and more.
Along with items from local area farms, the market includes a Chef's Table where visitors can sample and take home unique summer recipes.
In case of inclement weather, the Market will be moved inside the Perkins Student Center and an announcement will be sent to the University community.
You can also follow UD Dining (@DiningUD) on Facebook, Twitter and Instagram to be the first to know about updates and special events.
Acceptable payment methods include points, flex, and cash.
Thursday, September 21, 2017 at 11:00am to 2:00pm
Mentor's Circle
Event Type

Calendar

Departments