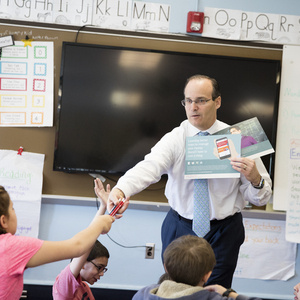 Teach Children to Save Day
Members of the Delaware banking community are invited to lend a hand to this 19th annual state-wide week of elementary school saving instruction, scheduled for Mon., April 24th thru Fri., April 28th. Third and fourth grade teachers are invited to register their classes now. Volunteer registration will follow in February when bankers may choose from a list of hundreds of registered classrooms; during their visit, volunteers will read a book and share a short 45-minute lesson. The CEEE provides all materials.
TCTSD is part of a national financial literacy effort that works to encourage young students to develop the habits that will help ensure their future economic independence.
Teachers: Register Now Online!
Create an account at: www.teachchildrentosavedayde.org/
(All teachers must create a new registration for 2017 TCTSD.)
* If you don't see your school listed, contact us to have it added.
Bank volunteer registration will open on February 10th at this same url.
For more information on the program, visit: http://www.debankers.com/teach_children_to_save_day.html
Friday, April 28, 2017
Third and 4th grade classrooms throughout Delaware.
Event Type

Calendar

Departments

Tags

Website
Contact Email

Contact Name

Jennifer Magaw

Contact Phone

302-831-2559

Subscribe