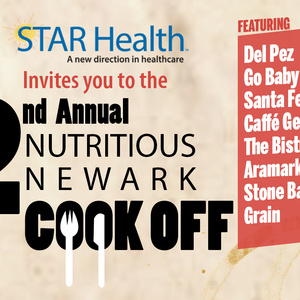 The Nutritious Newark Cook-Off | STAR Health
Event is sold out!
STAR Health invites you to The Nutritious Newark Cook-Off. Local restaurants will create some delicious, healthy dishes; we need you to vote to decide the winners. Last year's winning restaurants included Home Grown Café (Most Creative), Santa Fe Mexican Grill (Best Presentation) and, the grand prize winner, The Bistro at Courtyard Marriott (The Tastiest Food in Newark). Come see if they can defend their titles as they compete against the best of Newark.
Guests can also tour the clinics and research labs of the STAR Health Sciences Complex. Learn about the comprehensive healthcare services and health sciences research studies offered by STAR Health — all open to the community.
Pre-registrants are entered to win prizes, including nutrition, fitness and wellness packages. Registration is limited to the first 500 people.
Thursday, February 23, 2017 at 4:00pm to 7:00pm
STAR Health Sciences Complex
540 S. College Avenue, Newark, DE 19713
Event Type

Calendar

Departments