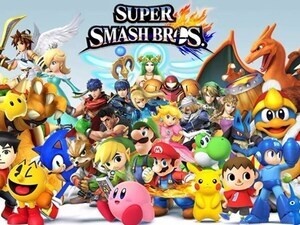 VGTC Smashing Saturday (9/16/17)
FB Event Page: www.facebook.com/events/341534612962069/
Video Game Tournament Club is hosting this semester's first Smashing Saturday on September 16th! We will be featuring a singles tournament and a crew battle at this event. Come out to Perkins Student Center for your chance to win prizes!
Date: September 16th, 2017
Location: Perkins Student Center at the University of Delaware
Room: Collins Room
Registration will begin at 11:00 AM
UD vs. Dover, DE Crew Battle will begin at 12:00 PM
Singles Tournament will begin at 2:00 PM
Venue fee:
Free for Everyone! (Since this is the first tournament of the semester)
Bracket fee:
Singles Tournament - $5 for everyone
***We would be appreciative if some participants would bring a full set-up (Wii U, Smash Bros, TV, gamecube controller adapter, all DLC characters, and Dream Land)***
SMASHING SATURDAY RULESET
We will be using the revised Smash 4 Recommended Ruleset found here:
docs.google.com/document/d/1CFaeel_c...EZ7ZrIrb_fSva5H3tsN24yp2INyrVLE/edit
The tournament sets will be best-of-3 games, except for Winner's, Loser's, and Grand Finals, which will be best-of-5 games.
Please read the ruleset before entering.
Prize payouts:
1st: 60%
2nd: 30%
3rd: 10%
NOTE: We will now being giving out Amazon.com gift cards instead of cash prizes at all of our events due to school regulations. We will still be paying out proper amounts (60%/30%/10%).
Stick around after the tournament for friendlies!
GOOD LUCK AND HAVE FUN!
Saturday, September 16, 2017 at 11:00am to 6:00pm
Perkins Student Center - Collins Room