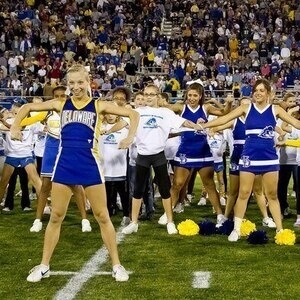 Youth Cheer Day
Calling all girls ages 12 & younger! Register today to participate in Youth Cheer Day.
Learn more about the importance of education and fitness while meeting and interacting with the University of Delaware Cheerleading teams. All participants will learn a short routine to be performed on-field at halftime of the Blue Hens Football game later that day for all to see in Delaware Stadium.
No experience is necessary. Attire is athletic apparel and sneakers.
12:00-12:30 p.m. - Clinic Check-In
12:30-1:30 p.m. - Pre-Game Clinic, material learned for performance
1:30-3:30 p.m. - Have fun in the Fan Zone in front of the Bob Carpenter Center
3:30 p.m. - Kick-off vs. Delaware State
(7:00 left in 1st half) - Participants at North End Zone field gate (closest to video board)
Halftime - On-Field Performance$10.00 registration fee includes a FREE event t-shirt and game ticket.
Space is limited and subject to availability. Registration deadline is Tuesday, Sept. 3 at 4:30 p.m.
Saturday, September 7, 2013 at 12:00pm
Delaware Stadium
Delaware Stadium, University of Delaware, Newark, DE 19716, USA
Event Type

Calendar

Departments

Website
Cost

$10.00

Contact Email

Contact Name

Athletics Marketing

Subscribe