Place Type

academic building
Building Code

NN05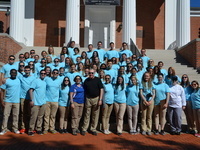 14th Annual Taste of Newark Food & Wine Festival Enjoy a wide variety of culinary delights from Newark, Delaware's restaurateurs, as well as tastings from...
Free candy! Join the POW peer educators in creating a mirror art project that supports positive body image.
Gallery talk on the material culture of WWI uniforms. Lucus Clawson, Historian and Archivist, Hagley Museum and Library.
Jan Gardner Broske, Museums Collections Manager and co-curator of the Fashion on All Fronts exhibition, for a gallery talk about World War I propaganda posters.
Recent Events