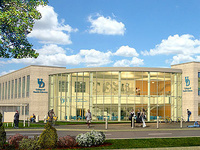 For many people who stutter, National Stuttering Association (NSA) chapter meetings are the first time they have ever talked about stuttering with other...
The First Step Grand Challenges program supports enthusiastic entrepreneurial undergraduate students who are interested in identifying social and...
Recent Events

John Kozel left a positive review
6/8/2017
awesome event with lots of helpful healthy info and food & wine!
Fenglu Xu left a positive review
4/4/2016
it is helpful and interesting! quite good!
Linda Ellis left a positive review
10/30/2015
What a wonderful event! I attended with a Chrysler retiree who spent 27 years of his life working there. He reunited with many, many former coworkers. The food and beverage displays were first class and there were many people from the new campus to talk to us about the new services there now. I did not know that there is a medical care facility. I have their card and will call the next time I need to see a Nurse Practitioner. As a UD student not eligible for Student Health services, I am pleased to know of the service.